BOSP-F Industrial centrifugal pump
BOSP-F Industrial centrifugal pump is designed for the process which requested for low flow rate but high transfer head (pressure).
According to international standard, impeller and shaft is separated, and flange connection of in the middle of pump body.
The advantage is: middle transition shaft prolongs the distance between the motor and the pump body,and enhanced heat isolating performance.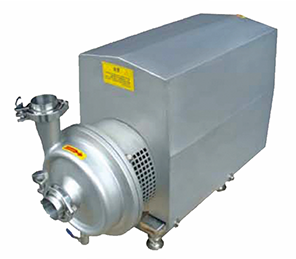 MATERIALS
| | |
| --- | --- |
| Parts in contact with pumped media | AISI 316L or 304 |
| Other parts in stainless steel | AISI 304 |
| Gaskets (standard) | EPDM (FDA) |
| Mechanical seal (standard) | graphite/Sic/EPDM |
| Inside surface finishing | Ra < 0.4 um. |
| Outside surface finishing | Mirror polished |
APPLICATION
BOGP centrifugal pump is a sanitary centrifugal pump that meets the highest sanitary requirements for use in the food-processing and pharmaceutical,dairy,milk,bear industries.
Some of its uses include processes in the brewing, dairies and beverage industries in general, and with the appropriate options it can also be used in complex applications such as evaporators, concentrators, distillation towers, decanting of syrups, and purified-water loops in the pharmaceutical industry.