Liftking PRO Series Chain Hoist – 1 ton – 1 fall (ECH01-01S)
| | | | |
| --- | --- | --- | --- |
| POWER SUPPLY: | 3P,380V,50Hz | LIFTING HEIGHT: | 3-20m |
| CONTROL VOLTAGE: | 48V | WORKING GRADE: | 2m/M5 |
| LOAD CHAIN: | G80 Load Chain | PROTECTION LEVEL: | IP55 |
Liftking PRO Single Speed 1Ton Electric Chain Lifting Hoist (exclude Trolley)
1. Shell: Made of light aluminum alloy shell, light but durable. The cooling fin is specially designed to ensure quick heat dissipation with the rate of up to 40% thus supporting continuous service. The integral enclosed structure is applicable to places like chemical plant and electroplating factory.
2. Side magnetic braking device: The magnetic force generator is the latest design which is featured for generating magnetic force. It allows instant braking as soon as the electric power is cut off. Thus safety of load is guaranteed.
3. Limit switch: The limit switch device is installed where the load is lifted on and off to make the motor stop automatically so as to prohibit the chains from exceeding safety limit.
4. Transfomer: Control system with 48V transformer device. This device is used to prevent unexpected accidents caused by electric leakage and guarantees safe use while raining.
5. Inverse phase sequence protecting device: A special electrical circuit controls electricity and stops in case of the wiring error in the power supply.
6. Electromagnetic contactor: Electromagnetic contactor can be used safely on frequent use.
7. G80 alloy steel chain: This chain can be safely used in poor environment such as rain, sea water and chemicals.
8. Hook: Hot forging with perfect strength that is hard to break. The operation safety of the lower hook is ensured by its 360 degrees rotation and safety latch.
9. Push button: Water proof push button is installed, it is light and durable.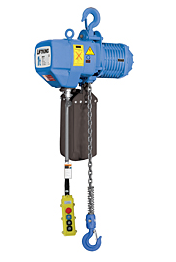 VARIATIONS
3-TON, 1 FALL
7.5-TON, 3 FALL
5-TON, 2 FALL